Featured Article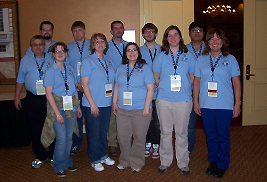 Kent State University at Ashtabula Students Earn Top Honors at Information Technology Conference
Kent State University at Ashtabula students who are members of the Association of Information Technology Professionals (AITP) won honors and awards at the association's National Collegiate Conference that took place recently in St. Louis. Mo.
read more
Legal Brief: Legal Services Provided by the Office of General Counsel
Posted Aug. 19, 2013
"Legal Briefs" appears in e-Inside to keep faculty and staff informed of legal issues and their implications. An archive of past Legal Briefs is available online.

The Office of General Counsel serves as more than just the legal representative of the university. The office is also available to provide legal advice and guidance on university-related matters to employees and departments on all campuses. This aligns with its mission to advance the university's strategic goals while preserving the legal, ethical and financial integrity of the institution.

Willis Walker, general counsel, is responsible for managing the operations of the office and ensuring that the university remains in legal compliance with numerous state and federal laws and regulations. The attorneys and staff in the office provide many services, including, but not limited to:

Assisting departments with the administration and negotiation of all third-party contracts;
Providing notary services for university documents;
Coordinating all public records requests for the Kent and Regional Campuses;
Assisting in the development of university policy, as well as department-specific regulations;
Providing advice on patent, copyright and technology-transfer information;
Assisting international employees with immigration processes; and
Providing training in regulatory compliance and guidance when new laws go into effect.

The Office of General Counsel has previously provided training for faculty and staff on topics such as:

Discrimination issues pertaining to employees or students
Public records
Campus Security Authority training
FERPA

If you are interested in scheduling training for your department in any of these areas, or another area of interest, please contact the Office of General Counsel.

Each attorney at the Office of General Counsel has several primary areas of responsibility. Visit the Office of General Counsel website so you will know whom to contact if a legal issue arises as part of your job at Kent State. If you are not sure whom to contact, call the office at 330-672-2982 or send your inquiries to legal@kent.edu.

You can also visit the Office of General Counsel's website for a variety of resources including a compliance database, the university records retention schedule and relevant information on immigration services.