Featured Article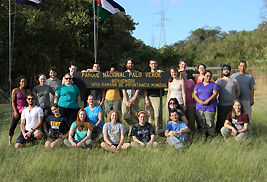 Kent State Students Study Biology in Costa Rica Over Winter Break
Associate Professor of Biological Sciences Oscar Rocha, Ph.D., originally from Costa Rica, learned how eye-opening a trip there can be for American students.
read more
Legal Brief: Proper Use of University Letterhead
Posted Feb. 13, 2012
"Legal Briefs" appears in eInside monthly to keep faculty and staff informed of legal issues and their implications. An archive of past Legal Briefs is available online. If you have a topic for a future legal brief, send the information to legal@kent.edu.

The use of Kent State University letterhead for correspondence pertaining to official matters within a university department, college or division is acceptable. However, there may be times when the use of business letterhead is not appropriate.

The following information is meant to provide guidance on appropriate use of university stationery. If you need additional information, contact Connie Hawke, associate counsel/associate vice president, federal government relations, at chawke@kent.edu or 330-672-2982.


Submitting articles/letters to a media outlet – A faculty or staff member who submits an "Op-Ed:" piece, letter to the editor or any other type of personal opinion to a media outlet (e.g. newspaper) should not use Kent State stationery for that purpose. This is a personal opinion and use of university letterhead could create the perception that the employee's opinion on the issue is also the position of the institution. It is acceptable for the individual to indicate that he/she is employed by the university.
Expression of Political Opinions – A university employee is free to express his/her personal opinion on political matters related to higher education. However, letters sent to elected officials at the state or federal level should be sent on the employee's personal stationery, not university letterhead.
Inviting speakers to a non-university function – Kent State employees who are active in community organizations outside of the university should not use Kent State letterhead to invite speakers to a meeting or any other type of correspondence having to do with the outside organization. Instead, the employee should use the stationery of the organization, because the university is not making the invitation.
Article or book publications – A faculty or staff member who is publishing a book or article in his field of expertise may use Kent State stationery for business correspondence related to the publication. This is because it is within the employee's scope of employment. If the publication is unrelated to the employee's scope of employment and not based on scholarly activity, then university letterhead should not be used for correspondence.