Featured Article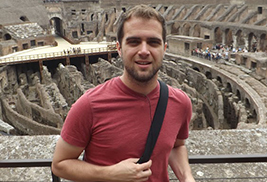 Kent State Student Receives U.S. State Department Scholarship to Study Abroad
Kent State University's Brandon Smith, a sophomore geology major, received a Benjamin A. Gilman Scholarship from the U.S. State Department to attend the university's Florence Summer Institute.
read more
Kent State Students Help Find "Voices" in Juvenile Detention Center
Posted July 6, 2015 | Albert Battistelli
My Voice
My voice gives air to my lungs
But words explain the breeze
When I speak it sends waves across the sea
A louder voice is one of an earthquake
You can't break my words, they are hard as stone
Flows like lava, my voice will be known

-Poem taken from Voices of Dan Street

Two Kent State University graduate students are helping young people find their voices at a local juvenile detention center. The project, "Voices of Dan Street," was developed by Amanda Stovicek and Karly Milvet as a part of a course called Creative Writing in the Community under the guidance of their instructor Nicole Robinson, outreach manager of Kent State's Wick Poetry Center in the College of Arts and Sciences.

"Voices of Dan Street" is a website dedicated to the publication of poetry written by teens at the Ohio Summit County Juvenile Detention Center, located on Dan Street in Akron. The goal of the project is to engage and empower young writers in the belief that poetry is a tool for self-discovery and a way to better understand the world.

While the poetry writing workshops began during the 2014 Fall Semester, workshops continued this past spring with the support of the Howard Atwood Family Fund of Akron Community Foundation. Each week, teaching artists from the Wick Poetry Center work with students at the detention center to strengthen their voices through poetry discussion and writing. Selections from the students are then posted anonymously on the "Voices of Dan Street" website. Each piece is tagged with the writing prompt from that session so the writers can find their work.

The poets themselves are students in Ruth Edge's language arts class at the juvenile detention center. More than 40 students participate in the poetry workshops each week where Stovicek and Milvet help students to read and discuss poems, and encourage them to write their own and share them with others.

Edge has a long history of working with juveniles. She has worked at the Ohio Summit Juvenile Detention Center for the past two years and previously worked at the Ohio Department of Youth Services.

"I was so excited when I found out that the Kent State Wick Poetry Center was coming to Dan Street," she says. "I think that all students need to have an outlet to let their voices be heard and an outlet that is positive to express themselves, and 'Voices of Dan Street' does just that."

Edge says that the students are responding to the poetry workshops.

"The kids love to write, and they love to put their thoughts on paper and read their poems orally and get feedback." she says. "The students look forward to every Friday because they know it is 'poetry day' and Amanda and Karly are coming."

While the Atwood Family Fund grant provides funding for one class, Robinson says that the Wick Poetry Center felt it was important to continue providing poetry to all of the classes at the Juvenile Detention Center. As a result, the Wick Poetry Center will have two undergraduate interns teaching alongside Stovicek and Milvet.

"I believe all people, no matter their circumstance, should have access to experience poetry, to use language as art and learn from the poems they read and write," Robinson says.

Stovicek believes that projects like this are crucial to reaching teens who often feel outside society.

"So often, these kids are overlooked or undervalued," she says. "They are in a system that labels them as offenders. If we can give them a safe place to get their thoughts onto paper and to discover that what they have to say matters, then we've done our best. All of these kids have voices; we are just giving them a space to engage those voices."

For Milvet, finding one's voice is an essential part of connecting to the world.

"Voice is identity and the aural embodiment of thought," she says. "It's beautiful and fleeting and permanent and provocative, it's loud or rasping or sassy or hurt. Most importantly, it's an avenue of communication and exploration, experimentation and play. It allows us to connect to the world and there is most certainly strength and empowerment when we feel like someone is listening."

Stovicek and Milvet are currently enrolled in the Northeast Ohio Master of Fine Arts (NEOMFA) program at Kent State. NEOMFA is a consortium of four universities in Northeast Ohio and includes students from Kent State, Cleveland State University, the University of Akron and Youngstown State University.

Stovicek has a Master of Arts in English language and literature from Kent State and a Bachelor of Arts in English from Heidelberg University. She has had work published in Calliope, Morpheus and Ohio Poetry Day.

Milvet completed her bachelor's degree in English at Kent State in 2012. Her work has appeared in Luna Negra and Flyover Country Review.

For more information about "Voices of Dan Street," visit https://voicesofdanstreet.wordpress.com.

For more information about Kent State's Wick Poetry Center, visit www.kent.edu/wick.