Featured Article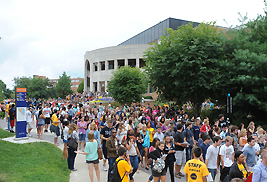 Kent State Achieves Highest-Ever Enrollment
Kent State University has surpassed last year's record enrollment number to achieve a new all-time high with the release of the university's official 15th-day census data.
read more
Legal Brief: Changing or Creating University Policies
Posted Sept. 19, 2011
"Legal Briefs" appears in e-Inside monthly to keep faculty and staff informed of legal issues and their implications. An archive of past Legal Briefs is available online. If you have a topic for a future legal brief, send the information to legal@kent.edu.

Changing or Creating University Policies

The Office of General Counsel has a new resource for anyone involved with developing and submitting a university policy. The document, Policy Development and Implementation Advisory, outlines the steps to formulate, develop and implement a new policy or make changes to an existing policy. This includes policy format, required information, the different types of policies and the approval and implementation process.

The Office of General Counsel is responsible for the administration of all university policies and the official University Policy Register. A university attorney must review any new policies, or changes to existing policies, before they are submitted to the Board of Trustees.

For more information, contact Michael Pfahl, associate counsel, at 330-672-2982 or mpfahl@kent.edu.