Featured Article
Kent State Rated One of the World's Top 200 Universities
As Kent State University continues its Centennial celebration, it received a special recognition that reinforces the impact and reputation the university has in the world. Times Higher Education, a London-based higher education magazine has ranked Kent State as one of the top 200 universities in the world.
read more
Make Plans to Share in the Homecoming 2010 Excitement This Week
Posted Oct. 4, 2010
Homecoming 2010 is here! Join the university community as the excitement builds leading up to this weekend's festivities. Among the many events this week, something is sure to interest each of us Golden Flashes and build school spirit leading up to the football face-off against the Akron Zips.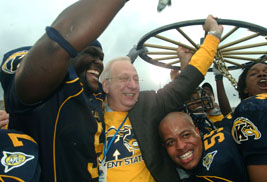 The battle for the Wagon Wheel takes place Oct. 9.
The Kent State Flashes Homecoming game will kick off at 3:30 p.m. on Saturday, Oct. 9, against the University of Akron Zips, but events start Monday, Oct. 4. Visit the Homecoming website for the latest and greatest rundown and plan to attend your favorites.

Since this years' Homecoming is also the culmination of the Centennial celebration, the popular Centennial Black Squirrels are making a return appearance in the football fan favorite FlashZone.
Last year at Homecoming you voted on your favorite, decorated Centennial Squirrels. Based on those votes, prizes and ribbons were awarded to fan favorites. Since then, numerous requests have been made to see the fabulously dressed and painted squirrels one more time. So, by popular demand, the squirrels will be making an encore appearance during this year's Centennial Homecoming!
This display is part of FlashZone, the free indoor tailgating experience that takes place from 1-3 p.m. - prior to game kick off - in the Field House on the east side of Dix Stadium.
Some of the other activities planned during FlashZone are:
Indoor picnic area
Inflatables
Entertainment and Kent State band performances
Food, beverage and beer vendors
Exclusive donor lounge area (Varsity Circle level and above)
Greet the team two hours prior to kick off
Shuttles from west side parking to Field House lot
Of course, no Homecoming celebration would be complete without a parade! This year's parade steps off at 10 a.m. and features floats, bands and a few additional surprises.
As the parade steps off, Kent State takes flight. Flying over the parade route will be (weather permitting) two planes from the Kent State Aeronautics program. On board will be flight instructors and students, seven of whom are Kent State graduates. They will fly at 900 feet above the crowd and will make two passes from east to west.
Find your favorite parade-watch spot early and prepare to be entertained!
After the parade and before the football game, a dedication ceremony will take place to officially mark the spot where the Centennial Time Capsule is buried. The dedication will take place at 11:30 a.m. on Risman Plaza, where the time capsule was buried in August.
Below you will find a sampling of events of Homecoming 2010 events:
Thursday, Oct. 7
Spirit Walk and Pep Rally
6 p.m. in the MAC Center Plaza

Exquisite Inc. Fashion Show
7-9 p.m., Kent Student Center Ballroom
Fall fashion show - showcasing student designers in Exquisite Inc. Modeling Troupe portraying fall fashion, Halloween costumes and school spirit for the Homecoming game.

Friday, Oct. 8
Thirty Seconds to Mars (with Neon Trees and New Politics)
8 p.m., MAC Center - $15 student tickets, $25 public tickets
Sponsored by the Center for Student Involvement. For more information and events, visit http://www.kent.edu/csi/homecoming-2010.cfm.

Homecoming Spirit Day - Wear the 2010 Official Homecoming T-shirt

JMC Alumni Awards and Reception
4:30-6:30 p.m. at Franklin Hall

School of Communication Studies Alumni Awards and Reception
5-7 p.m. at May 4 Visitors Center

Kent State-NAACP Scholarship Reception
6 p.m. at Ritchie Hall Multipurpose Room
This reception serves to raise funds for the AALANA Excellence in Leadership Award Fund

Greek Alumni Homecoming Social
8 p.m. at Water Street Tavern

Saturday, Oct. 9
Class of 1960 50th class reunion featuring Dick Goddard

10th Annual Bowman Cup 5K Race
8:30 a.m. at the Student Recreation and Wellness Center
Sponsored by Recreational Services
Cost: $15 Student; $20 Affiliate; $25 Community

Alumni Breakfast and Parade Viewing
9-11:30 a.m. at the Williamson Alumni Center, 1200 East Main St.
Sponsored by the Kent State University Alumni Association
All are welcome to join us under the hospitality tent for food, fun, raffles, children's activities, giveaways and much more. Alumni association members can stop by for their Homecoming pins too and life members can pick up their 2011 Kent State calendars.

2010 Homecoming Parade
10-11:30 a.m.
Beginning near the Alumni Center on Midway Drive and traveling west on Main Street to Franklin Avenue in Kent

Homecoming Hospitality Tent for Friends of JMC/CCI
9:30 - 11:30 a.m. at the corner of Lincoln and Main streets

College of Education, Health and Human Services - Parade Watch
10 a.m. in the White Hall Parking Lot, 150 Terrace Dr.
Enjoy a great view of the parade, visit with fellow college alumni and meet new friends. Parade begins near the Alumni Center on the corner of Midway Drive and Main Street and ends at Franklin Avenue.

Women's Basketball Alumni Game
10 a.m. at the MAC Center
Featuring players from the past and present. Kent State Women's Basketball: "Where Tradition Never Graduates!"

Kent State Men's Lacrosse Alumni Game
11 a.m. at The Commons
Free for spectators. $30 for Alumni Players 11 a.m. registration. Noongame time.
JMC Homecoming Lunch/Raffle
11 a.m. - 1 p.m. at Franklin Hall

Hillel at Kent State Alumni Homecoming Bagel Brunch
11:30 a.m. - 1 p.m. at the Cohn Jewish Student Center
Tour Hillel's new home, the Cohn Jewish Student Center, warm up with coffee, hot chocolate and "bagels and a schmear" after the parade.

Time Capsule Marker Installation
Risman Plaza, Library First Floor Dedication
11:30 a.m. at Risman Plaza

Celebrating a Century of Kent State Women's Athletics Luncheon
1 p.m. Kent Student Center Ballroom
Celebrate the rich athletic history of Kent State women's sports and share in the public recognition of pre-Title IX student-athletes and coaches as Varsity "K" letterwinners.

Hospitality Tent/ FlashZone
1-3 p.m. at Field House at Dix Stadium
Hosted by Varsity "K," Blue and Gold and Kent State University Alumni Association.

Admissions Office VIP Tailgate Party
1-3 p.m. at Dix Stadium
The Admissions Office staff will be hosting high school guidance counselors, prospective students and their parents at a tailgate party.

College of Communication and Information Tailgate Party
2-4 p.m. at the southeast patio at Dix Stadium

Jim and Carolyn Phelan Varsity "K" Room - Game day
2 p.m. - end of game at Dix Stadium - North End Zone - Varsity "K" Room

Homecoming Football Game - Kent State Golden Flashes take on the Akron Zips in the battle for the Wagon Wheel
3:30 p.m. kick off at Dix Stadium

Homecoming King and Queen Crowning on field of Dix Stadium
Halftime of football game at Dix Stadium

Varsity "K" Person of the Year
End of the 1st quarter of the Homecoming football game.
For more information, including important parking notices,and a full list of events, visit the Homecoming 2010 website.
By Rebecca Mohr