Featured Article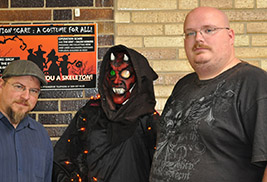 Kent State Salem Students Collect Costumes for Less Fortunate Families
Students in the honors program at Kent State University at Salem are collecting Halloween costumes as part of Operation Scare, an effort to help area families celebrate the seasonal holiday in more affordable ways.
read more
Legal Brief: H-1B and Other Immigration-related Support Provided by the Office of General Counsel
Posted Oct. 19, 2015
"Legal Briefs" appears in e-Inside to keep faculty and staff informed of legal issues and their implications. An archive of past Legal Briefs is available online.

Kent State University's Office of General Counsel provides several immigration services for international faculty and staff at Kent State. The office provides assistance and review for many nonimmigrant visa processes related to the faculty or staff member's employment with the university including:

H-1B, O, TN visa petition support and filing (Form I-129, Petition for Nonimmigrant Worker);
ETA 9089 Permanent Labor Certification support and filing (PERM);
Form I-140 Immigrant Petition for Alien Worker support and filing (excluding National Interest Waiver Petitions "NIW");
- First Preference, EB-1b (Outstanding Professor or Researcher)
- Second Preference, EB-2 (Advanced Degree)
- Third Preference, EB-3 (Professionals)
Letters providing for verification of university employment necessary for certain immigration petitions;
Form I-907 Request for Premium Processing (expedited service on temporary visas where necessary);

Find out more information about the services offered, as well as regulatory updates at: www.kent.edu/generalcounsel/immigration-services.

The Office of General Counsel can only provide immigration advice related to a faculty or staff member's employment with the university. The office does not handle personal immigration issues (i.e., I-485 filing, marriage-based petitions, etc.) and cannot provide personal advice to the employee or to family members. The office occasionally provides presentations regarding immigration matters such as the H-1B visa category and employment-based permanent residency. For more information, please contact Associate Counsel Michael Pfahl at mpfahl@kent.edu or call 330-672-2982.