Featured Article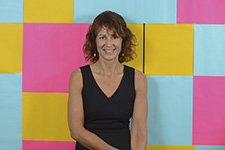 Kent State Leader's Creative Idea Named Finalist in Knight Cities Challenge
Kate Harmon knows that inspiring great ideas oftentimes involves generating them in inspirational environments.
read more
Kent State Launches New Faculty Program on Multicultural and International Education
Posted Jan. 19, 2015
As Kent State University's global footprint has expanded both at home and abroad, the university has experienced a near tripling of international students in its campus community. This increased international student presence has provided new learning opportunities in classrooms, throughout the campus and within the local community at large. At the same time, academic units are being challenged to consider how they can best continue to prepare domestic students for success in an increasingly global and intercultural campus and society.

This past fall semester, the Office of the Provost and the Center for Teaching and Learning supported the development and delivery of a semesterlong program called "Enhancing Teaching and Learning in Kent State University's Intercultural Classrooms and Community." The program was developed and facilitated by Ken Cushner, Ed.D. Cushner is a professor of multicultural and international education in the College of Education, Health and Human Services at Kent State, an author or editor of nine books and numerous chapters and articles in the field of intercultural education and training, and a Founding Fellow and past-president of the International Academy for Intercultural Research.

The specific goals of this program include preparing faculty members to:

Better understand their own, as well as their students', intercultural competence and development;
Have greater knowledge of intercultural communication and interaction that are increasingly evident in the classroom;
Better understand the potential conflict between one's preferred teaching style and the range of learning styles and experiences international students may bring to the classroom;
Become knowledgeable and skilled at developing and using a variety of intercultural training methodologies (e.g., simulations and other active instructional activities, critical incident development and use) for use in the education of others; and
Consider culturally responsive ways to modify and/or enhance their own teaching practices and assessment strategies.

Thirteen Kent State faculty members from eight different colleges and university libraries completed the eight-session program. Faculty participants are listed below and will comprise the first cohort of Kent State faculty who can be called upon to advise and consult with other faculty encountering intercultural communication issues in their classrooms. Additionally, faculty members who have completed this program are able to facilitate dialogue and discussion of critical intercultural issues faced by faculty at the individual and unit level in their respective colleges and programs.

Faculty participant, Maureen Blankemeyer, shared her thoughts about the program, stating, "What an enlightening and inspiring program this was! I was sorry to see it wrap up. Ideally, all Kent State faculty would have the opportunity to experience the training. Through readings, media resources, reflection, insightful discussions and activities, we (the program participants) increased our awareness of the need for intercultural competence at our university. We also learned practical ways to nurture our own intercultural competence, with the hope of fostering an even more inclusive environment at Kent State University."

This program concluded with participants sharing a framework for original projects that will be ongoing. Some examples of these projects include development of:

Campuswide faculty needs assessment to focus on areas of concern in regard to teaching in an intercultural setting;
Succinct faculty resource manual encompassing a range of issues, strategies and resources regarding teaching in an intercultural setting;
Programs for international students with a focus on U.S. academic expectations and acclimating to the Kent area that extends beyond initial orientation programming; and
Presentations at faculty meetings and retreats at the college level highlighting what was learned during this program.

Members of the Kent State University Intercultural Faculty Scholars Fall Cohort are:

| | |
| --- | --- |
| Madhav Bhatta | College of Public Health |
| Maureen Blankemeyer | College of Education, Health and Human Services |
| Mary Lou Ferranto | College of Nursing, Kent State Salem |
| Elda Hegmann | College of Arts and Sciences |
| Yu Jin | College of the Arts |
| Isabel Lacruz | College of Arts and Sciences |
| Dandan Liu | College of Business Administration |
| Mike Mayo | College of Business Administration |
| Sevim McCutcheon | University Libraries |
| Tracey Motter | College of Nursing |
| Athena Salaba | College of Communication and Information |
| Kim Schimmel | College of Education, Health and Human Services |
| Jakyung Seo | College of the Arts |
For more information about the Intercultural Faculty Scholars, contact
Melody Tankersley
, associate provost for academic affairs, at
mtankers@kent.edu
or 330-672-8613.