Featured Article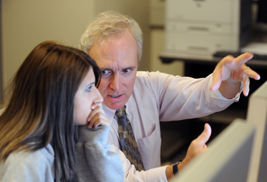 Kent State Makes Another Top World University List
Kent State University was recently ranked among the top world universities according to the 2011 Academic Ranking of World Universities. The annual ranking measures the performance of top universities worldwide based on a set of objective indicators and third-party data.
read more
Kent State Partners With Two Universities to Create Career-Technical Education Center
Posted Oct. 17, 2011
Kent State University, The University of Akron and Youngstown State University were awarded $432,558 by the Ohio Department of Education and the Ohio Board of Regents to establish the East Central Region College TechPrep/Program of Study Center (ECRC). The ECRC will serve more than 100 school districts and their students in an effort to boost student enrollment in College Tech Prep/Program of Study programs in high schools, as well as in Ohio colleges and universities.

ECRC Chief Administrator Kelly Herold says the center will provide students a direct pathway to higher education by ensuring that they obtain all necessary college-prep course requirements and transferrable college credit through their College Tech Prep (CTP) programs. Students will also receive college-readiness assessments and, if needed, focused intervention to enable them advance from high school to college. Through articulation agreements with the three institutions, the center will help facilitate students' readiness for and transition to college.

The ECRC is a virtual center with offices at the partner universities and a central office at Kent State staffed by ECRC Regional Director Jennie Royer and Jennifer Anders, regional program assistant. They and other ECRC collaborators will work with university deans, department chairs and other faculty members to ensure steady communication and momentum.

Royer says the center will serve as the point of contact to create the multi-institutional articulation agreements for more than 440 current high school programs. The ECRC will also serve school districts outside the region interested in linking with one of the higher education institutions.