Featured Article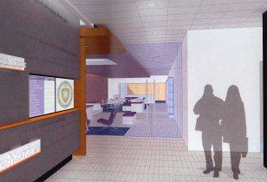 School of Library and Information Science to Double Its Space
The School of Library and Information Science is currently undergoing a 14,000-square-foot renovation to expand and double its space for teaching, research and student services.
read more
Legal Brief: Reporting Sex Discrimination, Sexual Harassment and Sexual Misconduct
Posted March 4, 2013
"Legal Briefs" appears in e-Inside to keep faculty and staff informed of legal issues and their implications. An archive of past Legal Briefs is available online.

It is important that all Kent State University students, employees and visitors enjoy an environment free from unlawful discrimination and harassment. This is reflected in the fact that we are protected from unlawful discrimination by several state and federal laws, as well as university policy. Title IX of the Education Amendments of 1972 20 U.S.C. §§ 1681 et seq., and its implementing regulations, 34 C.F.R. Part 106, is a federal law that prohibits discrimination on the basis of sex in educational institutions. Sex discrimination includes sexual harassment and sexual misconduct, which will not be tolerated at Kent State.

All employees of Kent State University are REQUIRED by policy to report any instance of sexual harassment or misconduct to the Title IX coordinator or a deputy coordinator, and in the case of sexual assault, to the police.

Sexual Harassment is unwelcome conduct of a sexual nature. It includes, but is not limited to: sexual advances, requests for sexual favors and other verbal, nonverbal or physical conduct of a sexual nature.

Sexual Misconduct is sexual contact with a person without their consent. It includes, but is not limited to: touching or fondling; rape (defined as vaginal, anal or oral penetration with a body part or object without consent); sexual exploitation (e.g., videotaping sexual acts without consent); or letting someone else watch sexual acts without your partner's consent.

Retaliatory Harassment occurs when someone complains of, or participates in an investigation of discrimination (including harassment or misconduct), and because of it they experience verbal or electronic harassment, threats or other forms of negative treatment.

What do I do if a student, coworker or campus visitor confides in me that they were sexually harassed or sexually assaulted (regardless of where or when it occurred)?

Let them know that you cannot ensure confidentiality. As an employee, you are required to report any alleged incident of sexual harassment or sexual misconduct that is brought to your attention. The only university employees who may ensure confidentiality are licensed counselors and unlicensed trainees of any university psychological services programs.

In the instance of sexual assault, encourage the student, employee or visitor to seek medical treatment and contact the appropriate law enforcement agency to report the incident.

Let them know where they can get help. The Sexual Assault Response Team (SART) website provides resources for victims and those who want to help. Jennifer O'Connell, the SART Education Intervention coordinator, can help a victim receive the help they need. She can be reached at the Women's Center, at 330-672-9230 or joconne5@kent.edu.
Report the incident to the Title IX Coordinator or a Deputy Coordinator, and in the case of assault, to the police. For emergencies, call 911; otherwise, Kent State Police can be reached at 330-672-2212. You also need to report the incident to the Title IX coordinator or a deputy coordinator. Contact information can be found on the Title IX website, www.kent.edu/hr/aa/titleix.cfm.


To schedule training for faculty or staff regarding sexual assault and sexual harassment awareness and response, including recognizing a student in distress, please contact O'Connell.

For more information on the university's policy against unlawful discrimination, as well as how the university responds to complaints of discrimination, harassment and sexual misconduct, please see the university policies 5-16, 5-16.1, and 5-16.2.