Featured Article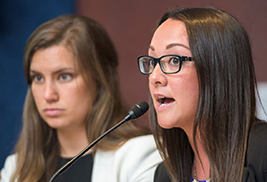 Kent State Student Helps Congress Change Child Welfare Laws
The pain of moving from one home to the next, time and time again, for four years straight is helping Keri Richmond speak out for other foster children without a voice.
read more
Kent State's Porthouse Theatre Launches Theatre Academy for International Students
Posted Aug. 24, 2015 | Joni Koneval
Students from South Korea's Sangmyung University received comprehensive theatre experience
Porthouse Theatre, Kent State University's summer professional theatre, held its inaugural Porthouse International Academy this summer. Sixteen students and one faculty member from South Korea's Sangmyung University participated in the comprehensive theatre experience.

During the three-week academy, which ran from July 12-Aug. 3, students took theatre and dance classes with Kent State faculty members and observed rehearsals for Porthouse Theatre's production of Hairspray. Additionally, the students participated in master classes with theatre professionals, took a course in English as a Second Language and experienced student life on the Kent Campus. Participants in the International Academy receive college credit from Sangmyung University for the classes they took at Kent State.

"The International Academy allows Porthouse to expand its cultural resources and offer students from other countries experiences in working with artists and educators in a professional theatre environment," says Eric van Baars, executive producer at Porthouse. "As international collaboration has become integral to higher education, Porthouse understands the benefits of sharing the work with students from other countries and fostering collaboration."

Jakyung Seo, International Academy coordinator and associate professor at Kent State, described the academy as "a bridge" between the South Korean and American students who studied at Porthouse Theatre this summer.

"It is not only a great opportunity for international students but also is a wonderful experience for domestic students participating in the program with them," Seo says.

The International Academy is Porthouse Theatre's third educational outreach program. Dedicated to theatre education, Porthouse's college academy, offering in-depth musical theatre training, was founded in 2008, and a comprehensive theatre arts academy for high school students was created in 2012.

For more information about Porthouse Theatre's academies, visit www.porthousetheatre.com.