Featured Article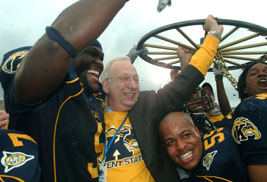 Make Plans to Share in the Homecoming 2010 Excitement This Week
Homecoming 2010 is here! Join the university community as the excitement builds leading up to this weekend's festivities.
read more
Kent State Rated One of the World's Top 200 Universities
Posted Oct. 4, 2010
As Kent State University continues its Centennial celebration, it received a special recognition that reinforces the impact and reputation the university has in the world. Times Higher Education, a London-based higher education magazine has ranked Kent State as one of the top 200 universities in the world. Kent State was the only public research university in Northeast Ohio to be awarded the honor and one of only four in the state of Ohio to make the list, along with Case Western Reserve University, The Ohio State University and the University of Cincinnati.
The 2010-2011 World University Rankings - considered - "the gold standard for world-class research institutions byTimes Higher Education. The publication partnered with Thomson Reuters to compile and issue this year's list. Kent State ranks 79th among universities in North America and 196th in the world. The world ranking comes on the heels of the 2011 edition of Best Colleges by U.S. News Media Group where Kent State received a coveted spot in the first-tier list of Best National Universities.
For the seventh annual list, the 2010-11 World University Rankings used a sophisticated new methodology that constitutes the most detailed, rigorous and comprehensive study of global university performance ever taken.
"We would like to congratulate Kent State University for its performance in this year's rigorous rankings," says Ann Mroz, editor of the Times Higher Education. "Being ranked among the world's top 200 is an impressive achievement. The top 200 universities in the world represent only a tiny fraction of world higher education, and any institution that makes it into this table is truly world class."
Kent State University President Lester A. Lefton says the world ranking helps bring attention to the great things happening at the university. "We are truly a world-class institution of higher education, and this prestigious international ranking confirms that," Lefton says. "We have had a tremendous Centennial year, from achieving the highest enrollment ever in our 100-year history to having our best fundraising year ever to boasting our best year for federally funded research and submitting a record number of research proposals.
"I am truly proud of our accomplishments this past year," Lefton continues. "These achievements are true examples of the excellence in action at Kent State."
The global rankings are built on 13 separate performance indicators designed to capture the full range of university activities, from teaching to research to knowledge transfer. These 13 elements are brought together into five broad categories, which are: teaching, citations (measuring research influence), research (measured in volume, income and reputation), international mix (measured in staff and student ratios) and industry income (measured in knowledge transfer).

"Our tables are based on rigorous data provided by Thomson Reuters, and for the first time an invitation-only reputation survey of more than 13,000 verified academics was conducted by [market research company] Ipsos Mori," says Phil Baty, editor of Times Higher Education World University Rankings. "This ensures that we have very high-quality data, both qualitative and quantitative.
"As global higher education is becoming more competitive than ever, inclusion in this year's ranking is an impressive achievement for any institution," Baty says.
For more information on the 2010-11 World University Rankings and to see the complete list of the top 200 universities in the world, visit www.timeshighereducation.co.uk/world-university-rankings.