Featured Article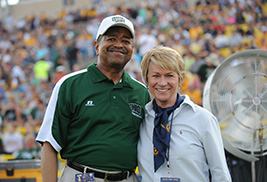 Kent State, Ohio University Form Partnership for Future Collaboration
Kent State University and Ohio University presidents have announced plans for educational collaborations.
read more
Kent State Geauga to Reduce Energy Costs, Carbon Emissions with Newly Installed Wind Turbine
Posted Sept. 8, 2014 | Foluke Omosun
Kent State University at Geauga has installed a 3,000-watt wind turbine on its campus that will reduce energy costs and cut down on carbon emissions. This is the first wind energy project at any Kent State campus. The wind turbine, pole and an inverter to connect to the campus electrical system were donated to the university by Don Clark, a farmer near Kent State Geauga.

With this latest sustainability effort at Kent State Geauga, conservative estimates of environmental impact are that about 1,700 pounds of carbon dioxide equivalent greenhouse gas reduction or the equivalent to the carbon dioxide emissions of about 87 gallons of gas will be saved each year.

Installation of the wind turbine and 60-foot-tall post was completed Aug. 26. Electrical system connections will be completed this fall. Several companies worked with Kent State to install the turbine. Kent State Geauga previously replaced its high-energy-use parking lot lights with new LED lights (an annual electrical reduction of 63 percent and 53,460 pounds of carbon dioxide), which will be powered by the wind turbine.

"If the wind is optimal and the turbine provides full power, it could light 71 percent or 22 of the 31 parking lot heads," says Robert Misbrener, project manager with Kent State's Office of the University Architect. "Kent State Geauga is in an area where the community is much attuned to sustainability and minimal impact on the environment. This is due in part to the large Amish community and farmland in Geauga County."

Misbrener says during nights and weekends when minimal power is needed at the campus, the power generated by the wind turbine will be exported into the Ohio Edison utility grid and will be used by anyone connected to the grid. However, this is unlikely due to the modest size of the system.

"Any exported power will be measured by a 'net meter' that will be installed by Ohio Edison and a contract signed by Kent State Geauga," Misbrener says. "The measured exported power will offset some of the cost of power for the campus."

"We are excited that our campus is embracing sustainability practices that also impact our neighbors in a good way," says John Granny, business services administrator at Kent State Geauga. "The newly installed wind turbine will reduce our carbon footprint and contribute to the preservation of the natural beauty of our community in Geauga County, which has 19 open parks and more than 9,500 acres of open parks and preserves."

For more information about Kent State's sustainable construction projects, visit www.kent.edu/universityarchitect/energy_conservation/index.cfm.

For more information about Kent State Geauga, visit www.geauga.kent.edu.