Featured Article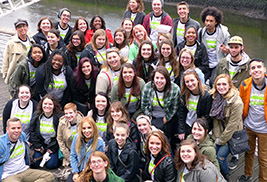 Kent State Communication Students Invade UK, Ireland for Education-abroad Experience
Fifty Kent State University students from the College of Communication and Information participated in education-abroad programs in Europe this spring, visiting Northern Ireland, Ireland and England.
read more
Kent State Graduate Student Crowned Miss Ohio 2015
Posted July 13, 2015 | Haley Keding
Sarah Hider, a Kent State University graduate student from Wooster, Ohio, has been crowned Miss Ohio 2015 after competing at the Renaissance Theatre in Mansfield, Ohio, on June 20. Hider is the second Kent State student in the past two years to win the title. Heather Wells, a Kent State broadcast journalism graduate, won the competition in 2013.

Hider is enrolled in Kent State's online graduate program where she is pursuing her master's degree in public administration. More than one thousand of Kent State's master's students take at least one online class.

"I love the versatility of the online program," Hider says. "I plan to take a little time off to get ready for Miss America, but once Miss America is over, I will be able to resume my work while I'm traveling and making appearances."

Hider's platform, "Women Hold Up Half the Sky," focuses on investing in the potential of women and girls. Hider says she felt inspired to make women empowerment her platform after supplementing her degree with an internship at the Women's Fund of Central Ohio in Columbus, Ohio.

"There, I learned a girl's confidence peaks at the age of eight," Hider says. "She will never be as confident again as she is in second or third grade. That inspired me to work toward helping girls sustain their confidence and build the life they dreamed of."

After graduation, Hider hopes to become a communications or development director for a nonprofit organization. She says her education at Kent State and experiences with Miss America have helped her better understand the field she wants to enter.

"Everything I learned about nonprofit organizations and how the government works have all accumulated in making me the right person to be Miss Ohio," Hider says.

In 2008, Hider was crowned Miss Ohio's Outstanding Teen and later competed in the Miss Ohio pageant twice before returning this year to win the title.

"I didn't want to have any regrets in my life so I chose to be fearless, and now I have a Miss Ohio crown on my head and I couldn't be any happier," Hider says.

Hider's next steps are to prepare for the Miss America pageant, which will take place Sept. 13. In the coming months, Hider will train for her talent, attend interviews, promote her platform, practice modeling and prepare for the swimsuit portion of the competition. With such a busy schedule, she still plans to keep her focus on education and the future.

"The girls who compete in Miss America are the next doctors and lawyers, and have a lot of ambition and goals," Hider says. "Being a queen is just one of the stops along the way."
Watch a video of Hider speaking about winning the Miss Ohio 2015 competition and her Kent State experience.

For more information about Kent State's online graduate degree programs, visit https://onlinedegrees.kent.edu/.