Featured Article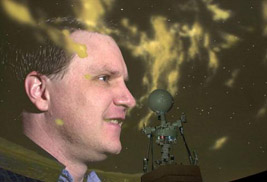 Planetarium Shows Evoke Curiosity
Brett Ellman, Kent State University physics professor and planetarium director, wants to create an appreciation for the universe, which he does through hosting free shows at Kent State's planetarium.
read more
Provost Appointed to Federal Advisory Committee
Posted April 18, 2011
Robert G. Frank, Kent State University provost and senior vice president for academic affairs, has been appointed to the Defense Health Board, a federal advisory committee to the Secretary of Defense. His official swearing-in ceremony as a new board member took place March 7 in Washington, D.C.
The Defense Health Board provides independent scientific advice and recommendations on matters relating to operational programs, health policy development, health research programs, and requirements for the treatment and prevention of disease and injury, promotion of health and the delivery of health care to Department of Defense beneficiaries. The mission of the Defense Health Board is to provide independent authoritative advice to maximize the health, safety and effectiveness of the United States Armed Forces.
Frank has a long history in administration, academic service and professional practice. A board-certified clinical psychologist, he joined Kent State in July 2007. Frank previously served as dean and professor of clinical health psychology for the College of Public Health and Health Professions at the University of Florida, Gainesville.

Frank, who became dean at Florida in 1995, also directed the Florida Center for Medicaid and the Uninsured. His prior administrative and academic posts include service at the University of Missouri, Columbia; through the National Academy of Sciences in the United States Senate, the National Institute of Disability and Rehabilitation Research and the Missouri Department of Health. In Missouri, Frank managed then Governor Mel Carnahan's effort for health care reform.

He holds undergraduate and graduate degrees from the University of New Mexico. His professional memberships include the American Psychological Association, of which he has been a Fellow. In 2003, he also received a Distinguished Service Award from the association. Frank formerly chaired the Florida Developmental Disabilities Council, the Legislative Committee of the American Congress of Rehabilitation Medicine, and American Psychological Association's Committee on Professional Continuing Education and its Board of Educational Affairs. His scholarship focuses on two areas: psychological adjustment to catastrophic injury and health policy.