Kent State Marks 44th Annual May 4 Commemoration
Posted Apr. 28, 2014

Kent State University holds its 44th annual commemoration of May 4, 1970, with events taking place May 3 and 4. The annual commemoration, hosted by the May 4 Task Force, provides an opportunity for the university community to gather and remember those who were lost and injured during the tragedy and also reflect on what May 4 means today.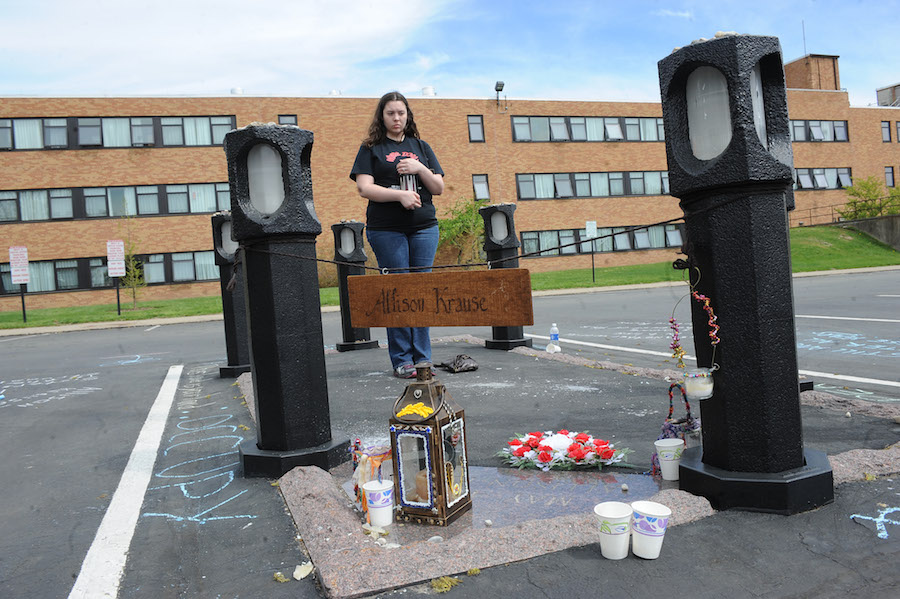 The May 4 Task Force, a student organization on campus, will host two panels on Saturday, May 3. The afternoon panel, "Activism Then and Now," will feature both current and former political activists, including peace and civil rights activist and lawyer Staughton Lynd, Native American activist Bill Means and members of student organizations from Kent State. This panel will be held in Room 317 in the Kent Student Center at 2 p.m.

The second panel, "Eyewitnesses to History: May 4th Perspectives," will include speakers who were eyewitnesses to the May 4, 1970, incidents. These speakers include shooting victims Dean Kahler, Joe Lewis and professor and writer Tom Grace. Chic Canfora, who witnessed the shooting, also will be a part of the panel, which starts at 7 p.m. in the Kent Student Center Kiva.

The annual candlelight vigil march is planned for 11 p.m. on May 3. The vigil and subsequent march will begin at the Victory Bell and will continue around campus, concluding at the Prentice Hall parking lot, where there are lighted markers where the four victims – Allison Krause, Jeffrey Miller, Sandra Scheuer and William Schroeder – were killed. The candle bearers will then start the vigil that will continue throughout the night until the commemoration begins at noon on Sunday.

The commemoration starts at noon on May 4 at the Kent State Commons and will include speakers and music.

Idris Syed, lecturer in Kent State's Department of Pan-African Studies, has been the faculty advisor for the May 4 Task Force since 2009. He first became involved with the group during his time as a student in 1990 and has continued to be part of it even after he graduated and became a professor at Kent State.

"I've found being involved with the May 4 Task Force to be one of the most important things I've done at Kent State," Syed said. "I think being a student, then a faculty member at Kent State has given me the opportunity to reflect on the impact and legacy that May 4 continues to have after all these years."

During the commemoration weekend, the May 4 Visitors Center will have extended hours. The center will be open on Friday, May 2, from 10 a.m. to 5 p.m., on Saturday, May 3, from noon to 5 p.m., and on Sunday, May 4, from 2 to 6 p.m.

For more information about events commemorating May 4, visit the May 4th Task Force website at www.m4tf.org.

For more information about Kent State's May 4 Visitors Center, visit www.kent.edu/may4.


# # #


Photo Caption:
A student stands vigil by the concrete lanterns in memory of Kent State University student Allison Krause, one of the victims of the May 4, 1970, shootings. The 44th annual
commemoration of May 4, 1970, will take place May 3 and 4.


Media Contacts:


Eric Mansfield, emansfie@kent.edu, 330-672-2797

Bob Burford, rburford@kent.edu, 330-672-8516