Featured Article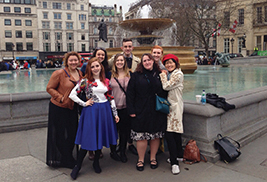 Kent State's School of Theatre and Dance Offers Its First Education-abroad Program
The School of Theatre and Dance at Kent State University offered its first education-abroad program, "Theatre and Arts in London."
read more
Kent State's School of Theatre and Dance Offers Its First Education-abroad Program
Posted Aug. 3, 2015 | Haley Keding
The School of Theatre and Dance at Kent State University offered its first education-abroad program, "Theatre and Arts in London." Yuko Kurahashi, Ph.D., associate professor of theatre at Kent State, led eight students abroad this past spring for the program.

The students who traveled with Kurahashi were from the schools of Art, Theatre and Dance, Fashion Design and Merchandising, and Communication Studies. They experienced different aspects of London that paired well with their concentrations.

During their weeklong trip, the students attended events and experienced the city by visiting historical sites, theatres, museums, exhibits and other English landmarks.

The group visited Regent's University where they met with and were given a lecture by Valerie Kaneko-Lucas, program director for theatre and performance studies at Regent's University. They also took a guided tour through the theatre and performance collection at the Victoria and Albert Museum.

"I gave them a lot of free hours so that they could explore their own interests," Kurahashi says.

Senior theatre studies major Emily Kline says she used her free time to visit places like Stonehenge, and she attended performances.

"While watching the many theatrical performances and meeting with some of the actors, I discovered a new appreciation for my schooling and the training I am receiving at Kent State," Kline says. "Everyone in the theatre community in London is trained, and the importance of education was apparent. It definitely showed in the high caliber of work produced."

Megan Repetski, senior fashion design major and costume design minor, enjoyed going to the theatre as well and says she especially liked the play Grim Tales, which was presented in a warehouse. She also attended behind-the-scenes tours of the National and Globe theatres.

"I don't have a lot of experience with theatre, so the behind-the-scenes tours were a real treat," Repetski says. "Costume design has always been in the back of my mind, but when I went to London, I realized how passionate I am about it."

Senior fashion merchandising major Haley Dawes says she felt inspired by the fashion galleries she visited, specifically the Alexander McQueen exhibit at the Victoria and Albert Museum.

"London is a major fashion capital, and after visiting, I know why," Dawes says. "I'm glad I am able to add that to my résumé because I believe world travel is important for any career or major."

Leading up to the education-abroad portion of the class, Kurahashi taught weekly classes with the students on English history, culture, politics, theatre, arts and fashion in London. When they returned to the United States, Kurahashi had her students create a presentation about what they learned abroad.

"The program was a great success," Kurahashi says. "Both my students and I found the program, including the trip itself, educational, transformative and fascinating."

Kurahashi felt inspired to take her students abroad after serving on Kent State's Globalization Task Force in 2011, which looked at how Kent State students could incorporate global perspectives into their education. Kurahashi wanted to encourage her students to learn through international experiences, and London, she says, was a perfect fit for her class.

"London is another place where you can see shows without a language barrier," Kurahashi says. "And this city is one of the meccas of theatre."

After taking a group of students to New York City in 2012 with her colleague Eric van Baars, Kurahashi believed that London was "naturally the next step" in her travel plans. She visited London three to four times prior to leading the "Theatre and Arts in London" program this past spring.

Kurahashi says she enjoyed her trip with the students and hopes to travel to London again in the future.

"What I will remember the most is the students' enthusiasm and excitement," Kurahashi says. "Their level of engagement went beyond the classroom."

For more information about the "Theatre and Arts in London" program, contact Kurahashi at ykurahas@kent.edu.

For more information about Kent State's School of Theatre and Dance, visit www.kent.edu/theatredance.