Featured Article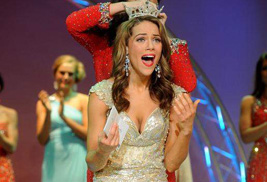 Kent State University Student Crowned Miss Ohio 2013
Kent State student Heather Wells was crowned Miss Ohio 2013 on June 22.

Photo Credit: Jason J. Molyet, Mansfield News Journal
read more
Kent State University Student Crowned Miss Ohio 2013
Posted July 1, 2013 | Danielle DeBord
Kent State University student Heather Wells was crowned Miss Ohio 2013 at the competition that took place at the Renaissance Theater in Mansfield, Ohio, on June 22. Wells, who is from Warren, Ohio, competed as Miss Montgomery County against 23 other contestants.

Wells graduated from Kent State in August 2012 with a Bachelor of Science degree in broadcast journalism and a minor in dance, and is currently enrolled as a post-undergraduate student in the university's nutrition program.

"Being a Kent State graduate was definitely a confidence boost," says Wells, "Kent State does an amazing job in preparing you for the real world, so I knew I'd be able to handle the stress and the pressure of the Miss Ohio competition.

"This was my sixth and final trip to the Miss Ohio pageant, so winning was not only a huge shock but also a big relief," Wells adds. "It still hasn't really sunk in yet that I am Miss Ohio 2013. I am ready and willing to work very hard. I want to represent Ohio and Kent State to the best of my ability."

As Miss Ohio, Wells will promote her platform, Divorce Recovery for Youth, and will represent Ohio at the Miss America pageant that will take place in September in Atlantic City, N.J. She also will have the opportunity to travel and meet people during the course of her reign.

"Because my platform is Divorce Recovery for Youth, I had to find a way to talk about my experience with divorce eloquently. My background in media and learning to speak clearly and impromptu really helped me to get my personal story across to the judges in my interview," says Wells.

At the competition, Wells also won the preliminary swimsuit and talent awards, the grand talent and the highest scored dancer award.

Wells says her experience from the Kent State dance program helped her portray the story of the song she performed at the competition — "Alabaster Box" by CeCe Winans.

"I owe a big thank you to the dance department at Kent State," says Wells. "Not only did they develop my dancing abilities, as well as my choreographic style, but they let me use their dance studios to rehearse in the weeks leading up to the pageant. I am so thankful for all of the support they have given me."

Kent State alumna and reigning Miss Greater Cleveland Meggie Wittman was fourth runner-up in the Miss Ohio 2013 competition.

For more information about Kent State University, visit www.kent.edu.

For more information about the Miss Ohio pageantry, visit http://missohio.org/.